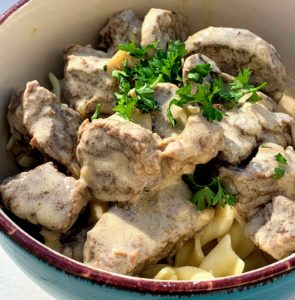 I have searched for a creamy stroganoff that didn't suck. Here it is.
Ingredients
2 lbs sirloin tips (you can buy steaks and cut them up)

1 medium onion,  chopped

3 T olive oil
2 T butter
8 oz sliced mushrooms
3-4 ounces Bourbon (1-2 shots)
3 cloves crushed garlic
3 T flour or corn starch in 1/4 c. cold water
4 oz cream cheese, cubed
1/2 c sour cream
24-32 oz beef broth (use less if you want thicker, more if more saucy)
1.5 t mustard powder
1.5 t thyme
1/5 t seasoning salt (I prefer Pappy's)
12 oz wide egg noodles (at least 12 oz)
Instructions
NOODLES: In a large pot, start boiling water for noodles.
Set InstantPot (IP) to saute, make sure the temp is set to high. Wait till it gets up to temp.
Season the sirloin tips generously with salt and pepper, mix it around in a bowl
Place the oil and butter in the IP. Once melted/hot, start searing the meat in batches. As it cooks, pull it aside into a bowl.
NOODLES: Start boiling noodles in the hot water pot. Add 1t of salt to the water, and set a timer as per the noodle package instructions.
To the now empty IP, add the onions and mushrooms, saute for about 2 minutes until cooked. Scrape the fond off of the bottom with a wooden spatula while cooking.
Add garlic, meat, spices, bourbon, and broth. Set instant pot to pressure cook, cook on high pressure for 2 minutes. Manually release pressure.
Let pot cool for a couple of minutes while open.
Set pot to back to saute, stir in flour in water mixture, as well as cream cheese and sour cream. Simmer for a 2-3 minutes. Then turn off heat.
NOODLES: Drain them, put back into the empty boiling pot with a little olive oil to keep them from sticking.
Notes
Seasoning Salt: I use Pappy's but you can use any one you like.
Bourbon: Don't use a cheap bourbon. You need at least a good mid-tier bourbon like Elijah Craig or Buffalo Trace. Spend the $30 and learn to sip it while cooking.
Meat: I've tried cheaper meats than sirloin, and it just never tastes right. Stick with sirloin.
InstantPot: This recipe does not require any pressure cooking, but it serves a couple of purposes. It ensures that you've fully cooked the meat, and it makes the meat a little more tender. You don't want it too soft, however.