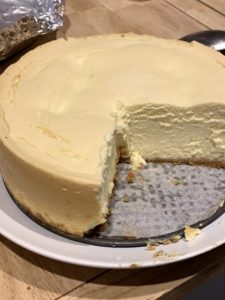 This recipe is actually a direct adaptation of the perfect recipe in The Joy of Cooking (75th Anniversary Edition). For an 8qt InstantPot, you'll need to get an 8 inch springform pan.
Ingredients
Part 1: Crust
10 graham crackers (one package)
8 T (1 stick) salted butter
3 T brown sugar
parchment paper
Part 2: Cheesecake
32 oz. cream cheese (room temperature)
1/2 t vanilla extract
1.4 c sugar
2 T all purpose flour
4 eggs (room temperature)
2 egg yolks (room temperature)
1/3 c heavy whipping cream
Instructions
Part 1: Crust
Thouroughly crush the graham crackers into crumbs (you can use a 1 gallon ziplock bag and a rolling pin)
Melt the butter, add to crumbs along with salt and sugar
Mix thoroughly
Put some parchment paper in the bottom of your springform pan
Pour in the crust mix, and compress evenly and well using a flat tool like the bottom of a firm spatula, or a smooth pyrex storage container, or the bottom of a measuring cup
Refridgerate at last 30 min
Part 2: Cheesecake Prep
With a hand mixer, mix  the room temperature cream cheese on the lowest speed setting in a large mixing bowl, until creamy (1-2 min)
Add vanilla extract, sugar, and flour, mix on low speed until homogenous (30s)
Add each egg one at a time, mix <30s, be sure to use spatula to mix in sides and bottom after each egg.
Add both yolks, mix as you did the eggs
Part 3: Cheesecake Cooking
Put 1 c filtered water (not tap) in the bottom of your 8qt InstantPot
Put the InstantPot cooking rack (if you have one with handles) on the counter, put the springform pan with crust on it (if you don't, put the rack in the pot and make a tinfoil sling for lowering the pan into your pot later)
Pour the cake mix in the pan
Let sit on counter a couple of minutes, drag a fork across the top to pop bubbles (you can also tap the pan to help bubble move up)
Carefully lower the pan into the pot
Cook with high pressure for 40 minutes
Natural pressure release (NPR) for 10 min
Release the pressure and open, use a paper towel to wick away any water on top of the cake
Gently shake the pot. If more than 2 inches of the middle of the cheesecake is still jiggly, close it and pressure cook for 5 more minutes with 10 min NPR
Let cool open in the pot for 30 min
Take out and let the cake cool on the counter for 60 min
Cover with tin foil (don't remove from pan) and chill in fridge at least overnight. 2 days is even better.
Notes
Flour: This is what helps make the cake drier and flakier. You can leave this out or modify if you like creamier cake. Some recipes suggest corn starch instead of flour (gluten free?).
Water Management: I have tried putting a paper towel and foil over the cake while cooking to prevent water from pooling on the top, but I was not happy with the results. It's fine to not do this.
Sour Cream: Some recipes call for sour cream in the cake, or a sour cream icing for the top. The latter can cover up imperfections in the top, but I don't prefer the sourness in either the cake or on top. YMMV.