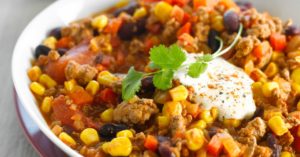 I have to admit it – I don't like chili very much.  However, this recipe, enhanced with spicy Italian sausage and corn, is pretty good, esp. with a dollop of sour cream on top.
Ingredients
Part 1: The Beans
2 c Peruano (a,k.a. Peruvian or Mayocoba) white beans
1/2 onion whole
2 garlic cloves, whole
8 cup water
1 T salt (add at end)
Part 2: The Base
1.5 lb ground beef
1 lg garlic clove, minced
1 half onion chopped
1 jalapeño, raw chopped
4 lg spicy Italian sausages, skinned
Part 3: Additions
28 oz. canned peeled tomatoes (mashed or chopped a little)
15 oz. canned corn (drained)
1 T chili powder
1 t paprika (smoked if you prefer)
1 t black pepper
1 t oregano
1/2 t basil
1/2 t salt
1/4 t cumin
1/4 t cayenne pepper (optional for more kick)
Instructions
Boil the beans in 8c of water for 2h with onion and garlic cloves. Add 1T salt when done boiling and let sit 10 min
Brown the Base ingredients in a deep sauté pan (big enough for all the chili)
Add the beans (with liquid) and the Additional items listed above, and let simmer for at least 30 min.
Serve in bowls using sour cream, shredded cheese, and/or chopped raw onions as garnish.